Love Your Photos Guarantee
Scheduling Guarantee
When we contact you to schedule your session, if the date you wanted isn't available, we will issue you a complete refund. After you confirm your date, your session is then subject to our normal cancellation policy.
Good Weather Guarantee
If we have to cancel your session because of rain, we'll give you the option to reschedule to another open date or receive a complete refund.
Happy Family Guarantee
We know kids have tough days sometimes. We're pros and we can usually still get you some pretty fabulous photos even if your family isn't 100%. But if you're not satisfied with your images, we are happy to offer you a free re-shoot. No stress!
A note about the shorter sessions: In order to give you the highest quality photos, we need to focus our time on the details that matter the most to you. For that reason, the shorter Spirited and Petite packages cannot accomodate outfit changes during the session, and are each limited to 6 participants per party. The Petite session will also focus on just one backdrop at your chosen location.
Cancellation Policy
If you need to cancel your session, please notify us in writing (such as through an email or Facebook message). If you cancel at least 60 days before your session date, we will give you the option to reschedule or receive a refund. After this time, the session fee becomes non-refundable. We have to do this because reserving your date means that we have to turn away other clients who might have otherwise booked that session.
However, we know that sometimes life happens. As a courtesy, we will normally allow you to reschedule your session to another available date within 60 days. We have the absolute best clients, so we don't anticipate any issues! However, if a client were to abuse this policy or cancel more than once, we reserve the right to refuse service. Here's the bottom line: We are a small family owned business. We will go out of our way to treat you fairly and work with you when possible, and we hope you will do the same with us! If you have any questions, don't hesitate to contact us.
Can I share my digital images on social media?
Absolutely! Many photographers restrict how you can share your digital images, but we aren't one of them. We want to make it as easy as possible to share your images with friends and family! Your photos will be delivered in an online gallery that make it simple to share your favorites directly to Facebook or Instagram, and you are welcome to forward your gallery invitation to anyone that you want. Anyone with the gallery invitation can view the photos and order their own prints, so you don't have to do a thing! But for your privacy, a PIN is required to download copies of the photos – so you have complete control over the digital files. You are free to give digital images to whomever you wish, but only the person booking the session will receive a print release in their name. (But you are welcome to purchase as many additional print releases for others as you want.)
By far, our biggest source of new clients is referrals from our existing clients. While it's never required, if you love working with us we hope you will consider tagging our Facebook page or website when you post. And please share your experience with your friends! 🙂
How can I make sure my kids enjoy the session?
It's so awesome that you want your little ones to enjoy their time with us! First off, Stephanie is a pro at working with children and getting those sweet images you want. So don't stress! But there are things you can do to help get the best out of your session and to make it easier on yourself. You can start by talking to your kids about the session in advance. Make it something fun that they can look forward to! Let them see your enthusiasm about it, and they will start to share it.
When possible, try to plan ahead for the hours before your session time. Well-rested and well-fed kids are usually going to have a better time. Planning to arrive early is always a great strategy for little ones, too. You'll appreciate the extra time to get everyone out of the car and acclimated to their surroundings. (It will also help you arrive stress-free if you get caught in unexpected traffic on the way!)
Also, feel free to bring snacks or treats to bribe your kids between poses. Trust us, we won't judge! When our oldest was 2, he would not take photos without the promise of cookies! (How's that for a photographer's kid?)
Incidentally, many of these suggestions also work great on Dads and Husbands! 😉
What locations do you use for photo sessions?
We have several "go to" locations around Wake & Johnston counties. For families with very young children we usually opt for a local park such as White Deer, Lake Benson, Bond Metro, Joyner, or McGees. For families that want a different feel and are willing to be on the move, we sometimes choose one of the old historic areas of a local town, such as Apex or Benson.
If you have a special request (such as another public area or private land that you have access too), we will be glad to look into it. However, the place you request must be legal for us to shoot in. Before using a new location, we will always attempt to contact the local authorities and verify any requirements for photographers. Why do we have to be sticklers for the rules? Well, because nothing would ruin your day like a local enforcement officer crashing your photo session. 🙂
How do I pick the BEST location for my session?
Pssst… Can we let you in on a little secret? Sometimes clients are their own worst enemy when it comes to picking a location. Yes, location is important, but the things that really matter may surprise you! That place you know of that is "just so pretty" may not actually provide the photos you really want. Remember, the focus of your photos should not be on the backdrop – it should be on you and the love you share with your family. We will consider factors like lighting conditions, textures, and ease of access to recommend a spot that will enhance what is most important to you.
It all starts with us listening to you. When you book a package, we will contact you to find out more about what you want to get out of your session. Once we understand what's most important to you, we can recommend choices for you to pick from. Or, if you prefer, we can simply select the best location and set everything up for you. We're experts at this, and if you're willing to trust us and be a little flexible, we can make sure you get photos that you will truly adore!
Can we take photos in a City of Raleigh Park?
City of Raleigh parks (such as Pullen Park, Durant Park, etc) have strict permitting requirements for professional photography. Even a quick family session requires a permit. The cost of compliance with their permitting process is so high that we would have to double or triple the cost of our packages to make it feasible to shoot there. For that reason, we are unable to schedule regular family sessions in any City of Raleigh park. However, there are lots of great parks around the Raleigh area that are operated by the county or other local towns. So don't worry – just tell us about the overall vibe you want your photos to have and we'll find you the PERFECT location!
Why isn't Yates Mill a good location for a shoot?
We generally don't schedule sessions at Yates Mill. We know it has a lot of pretty scenery in the fall. So what's the problem? The truth is that we just care too much about you, the quality of your photos, and the quality of your experience to recommend this location. You see, it has become a hotbed for photographers, and even on non-peak days there are usually large groups of people fighting it out for all of the popular spots. That means that most of your session time will be spent waiting. A lot. (And we all know how toddlers and pre-schoolers love to wait around, right?) The unique topography of the park also means that the ideal lighting window is narrowed, which makes the best appoint times even more crowded.
The honest truth is that we can give you much better photos and a much more relaxed experience somewhere else. This is one of those things that you can trust us about. We can get you beautiful natural scenery without the hassle, and at a place where your kids can run and move between poses. Now, doesn't that sound so much better?
How does the weather affect my photo session?
We don't have to reschedule sessions because of weather too often, but sometimes it does happen. We constantly monitor forecasts and keep an eye on the weather. If it looks like we may get rained out, we will usually wait and make that call on the morning of your session – because in our experience, local forecasts often over-estimate the chance of rain until then. If it looks like it will be actively raining during your session time, we will contact you to let you know and offer you the choice to either reschedule or to cancel and get a refund of your session fee. Also, don't worry about the sky being cloudly or overcast – clouds are actually a natural light filter that can give your photos a nice soft look.
We generally do not cancel sessions because of temperatures being too hot or too cold. Rather, we encourage you to plan for North Carolina's seasonal weather and dress the part! In the summer we look for areas with shade when possible and avoid shooting when the sun is at peak. Fall and winter shoots are a perfect time to bundle up and give your photos a festive vibe. (And we know you've been dying all summer to break out that cute new scarf, right?)
Do you use props during photo sessions?
Our style is one that focuses on capturinig images of your family together in a beautiful outdoor location. For that reason, we generally keep props to a minimum and only take what we can easily carry around during the session. This often includes a blanket to sit on, and occasionally a small chair or chalkboard. If you want to bring an item that has special meaning for your kids or family, discuss it with us before your session and we will be happy to try to find creative ways to incorporate it when possible.
Do you have a contract to sign?
Yes, this protects both of us by making sure all of the terms on the business and legal side are spelled out clearly. Our famous Love Your Photos Guarantee is built right in! To make things smooth during your session, we will email you a link to eSign the agreement in advance before your scheduled date. On the day of your session, we'll just ask all adults in your party to sign a model and liability release giving their consent to participate before we begin. That way we can get all of the business details out of the way and focus on what matters most on your special day! You can view a sample of our standard agreement
here
.
Do you charge sales tax?
We must add sales tax to all invoices and purchases to comply with North Carolina law. This includes session fees, digital products, and prints. The amount of sales tax added is based on your county of residence.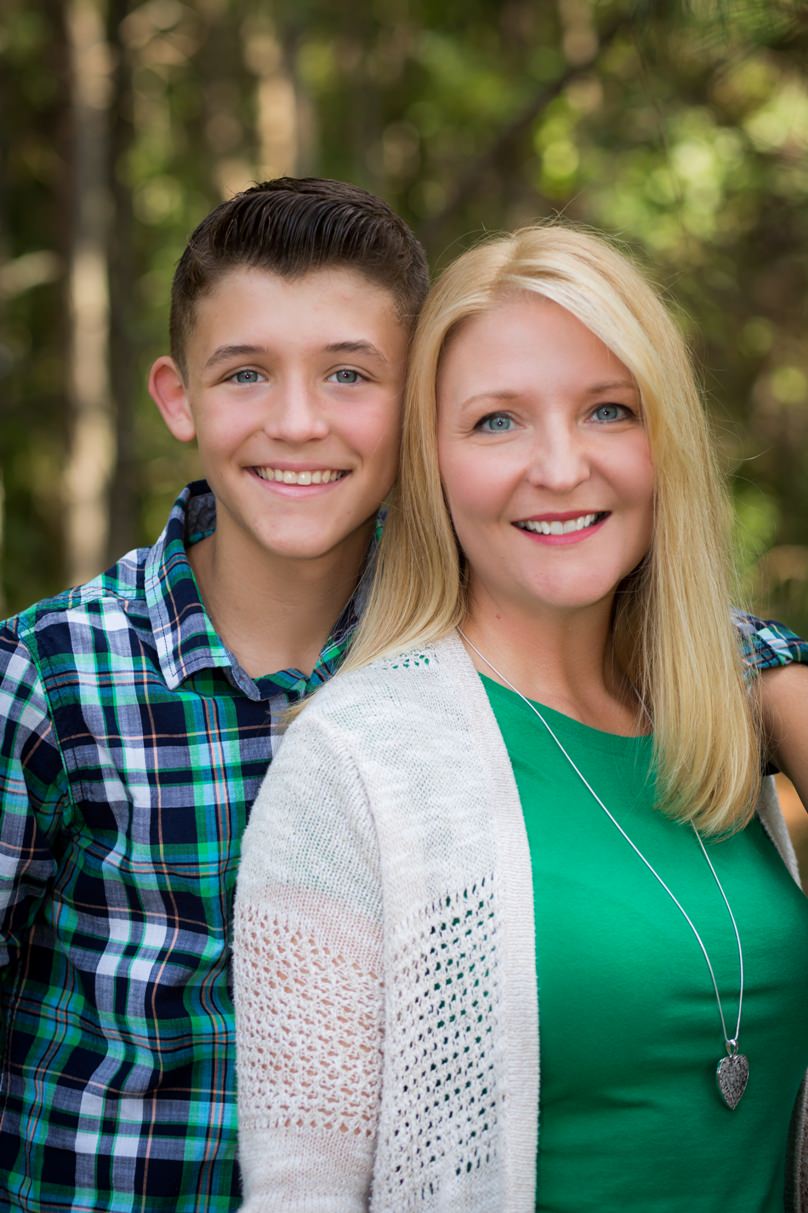 Stephanie has done our Christmas and family photos for the last several years. She takes her time and truly cares about capturing the moments that mean so much. When it came time this year for our daughter's senior pictures, Stephanie Byrd Photography did an amazing and professional job! Booking, billing, and session was easy and convenient.